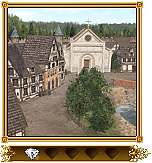 Riga
is a town built by Teutonic Knights in the early 13th century, and is an important trading base for the Russian region. Its important products include various types of minerals and feathers.
Riga is an allied city located in Northern Europe permit zone. It faces the Baltic Sea.
Language:
Slavic

Shopkeeper
Craftsman
Ad blocker interference detected!
Wikia is a free-to-use site that makes money from advertising. We have a modified experience for viewers using ad blockers

Wikia is not accessible if you've made further modifications. Remove the custom ad blocker rule(s) and the page will load as expected.