< back to | Battle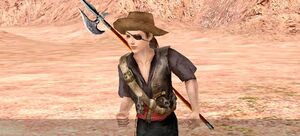 Intermediate job

Privateers attack foreign ships relentlessly specialized in melee battles. A class higher than local pirates.
Job change requirements:
Lv

Adventure
-
Lv
Trade
-
Lv
Battle

15  / Total: 24

Cost

 75.000? Ð
Endorsement:
Privateer permit
Aquisition:
Privateering order
Expert skill

Plunder

Favoured skill

Aboardage

Gunnery

Rowing

Assault

Swordplay

Steering
Ad blocker interference detected!
Wikia is a free-to-use site that makes money from advertising. We have a modified experience for viewers using ad blockers

Wikia is not accessible if you've made further modifications. Remove the custom ad blocker rule(s) and the page will load as expected.