< back to | Adventure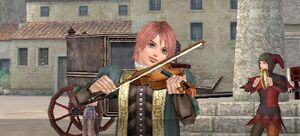 Master job

Artists are set out to find true aesthetics and are well trained in arts, crafts, and music. They can play the violin beautifully, much to the envy of many people.
Job change requirements:
Lv

Adventure
48
Lv
Trade
-
Lv
Battle

-  / Total: 118

Cost

 240,000 Ð
Endorsement:
First grade artist certification
Aquisition:
Revival of the Trojan war
Expert skill

Art

Favoured skill

Theology

Appraisal

Wining and Dining

Procurement

Persuasion

Violin Performance

Art trading

Crafts trading

Sociability

Handicrafts
Ad blocker interference detected!
Wikia is a free-to-use site that makes money from advertising. We have a modified experience for viewers using ad blockers

Wikia is not accessible if you've made further modifications. Remove the custom ad blocker rule(s) and the page will load as expected.